JUDAS PRIEST – is back for another concert in Poland!
10th DECEMBER 2015 – ERGO ARENA, Gdańsk/Sopot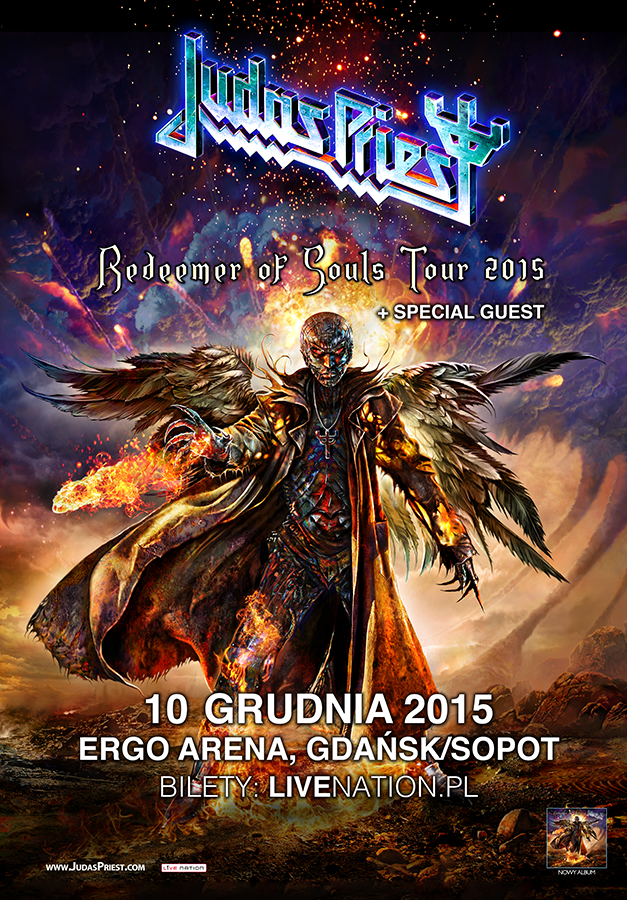 Live Nation in association with ERGO ARENA present
  JUDAS PRIEST – true masters of heavy will be back this winter, this time they'll rock ERGO ARENA!
After high demand and success of concert in Łodź, Judas Priest will be back on December 10th with  another dose of great music.
There are few heavy metal bands that have managed to scale the heights that Judas Priest have during their nearly 40 year career. Their presence and influence remains at an all-time high as evidenced by 2008's 'Nostradamus' being the highest-charting album of their career.
Rock Honors recipient, and playing to capacity crowds throughout 2011 and 2012 on their Epitaph  Tour  –  they  are  about  to  release  their  17th   studio  album  'Redeemer  of Souls' through Epic Records.
Judas Priest originally formed in the early '70s in Birmingham.  Rob Halford, Glenn Tipton, K.K. Downing and Ian Hill would be the nucleus of musicians that would go on to change the face of heavy metal.
Also, Priest were one of the first metal bands to exclusively wear leather and studs – a look that began during this era and would eventually be embraced by metal heads throughout the world.
It could be said that Priest simply owned the '80s as they were second to none as far as pure metal goes, releasing such all-time classic albums as 1980's 'British Steel', 1981's 'Point of Entry', 1982's 'Screaming for Vengeance', and 1984's 'Defenders of the Faith'.
By 2011, Downing announced that he was exiting the band – with a still-burning desire to continue flying the flag of metal Judas Priest decided to  continue  on, by enlisting newcomer Richie Faulkner on guitar.
In 2014, Priest's latest metallic studio classic, 'Redeemer of Souls. The album's success has undoubtedly reinvigorated Priest, as evidenced by a near-two month long US tour that is set to kick off on October 1st at the Mains Street Armory in Rochester, New York, and wrap up on November 22 at the Tacoma Dome in Tacoma, Washington, which will then lead to additional dates throughout the world.
Unquestionably, Judas Priest remains the true masters of heavy metal.
JUDAS PRIEST ERGO ARENA, Gdańsk/Sopot
10th December 2015
Tickets available now www.LiveNation.pl
Tickets prices:
| | |
| --- | --- |
| Tribunes | 155 – 249,00 zł |
| GC EE    * | 349,00 zł |
| GC | 249,00 zł |
| GA | 199,00 zł |
| Disabled | 155,00 zł |
*golden circle early entrance ticket
is the offer for the most devoted fans! You get: early entrance to the venue and possibility to get a place in 1st rows!